We integrate ESG criteria into our investment processes in a material way. We believe this leads to better long-term outcomes for our clients;
We exclude investments in companies engaged in activities which are clearly controversial and generally harmful to society, across all client portfolios;
We adopt an active stewardship role in terms of direct and collaborative corporate engagement and proxy voting. We focus on issues which we believe to be important from a long-term investor perspective, with an emphasis on climate change;
Where we have an entitlement, we always exercise our voting rights on behalf of client portfolios and provide full public disclosure on our decisions.
We are cognisant of our overall environmental performance and seek to minimise any harmful
impact by:

Reducing travel-related GHG emissions, holding virtual meetings wherever possible;
Neutralising our carbon footprint through a carbon offset programme, which has been validated by a third party: this aims to match the cost of our travel- related carbon emissions with a KBIGI funded investment in Irish natural woodland, and via an NGO programme – the Vita Green Impact Fund – to reduce GHG emissions in low income African communities – while enhancing the health and quality of life of those communities;
Optimizing our facilities' operating practices to minimise energy usage and avoid wastage. Our Dublin head office is 100% powered by renewable energy;
Encouraging best practices amongst employees e.g. avoiding single use plastic, minimising paper wastage, recycling, not using bottled water etc.
We support and facilitate a volunteering programme for our employees with a focus on contributing to the environment and communities in the greater Dublin area. This has involved helping out in coastal clean ups, in association with the Clean Coasts programme in Dublin, which works with communities to help protect and care for Ireland's waterways, coastline, seas, ocean and marine life.
The Boston Office of KBIGI has also helped out in cleaning up along the Charles River Esplanade. The Charles River restoration is a great environmental success story as it has gone from heavily polluted to one of the cleanest urban rivers in the country.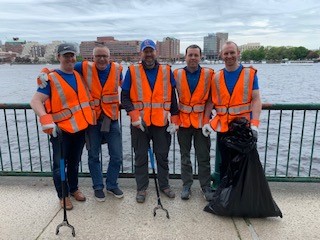 KBIGI provides assistance to a residential unit linked to a local childrens' hospital and direct contributions to local charities.
We have always invested in young people, and in addition to our Employee Volunteering Programme, every year we offer work experience and internship opportunities to those interested in an investment-orientated career.