KBI global investors publishes region by region analysis of ESG performance
KBI Global Investors ('KBIGI'), which has always had a strong focus on Responsible Investing and ESG, has published the findings of a unique analysis of the relative performance of cohorts of securities segmented by MSCI ESG rating¹ and geographical region.  The Dublin-based firm:
identified significant differences between ESG scores in Developed Markets and Emerging Markets and significant changes in the ESG scores in indices over the last five years;
found, positively, that ESG has a very low correlation with the characteristics that it targets across its suite of Global Equities Strategies;
concluded that stocks with above average ESG scores have outperformed.
Index breakdown by ESG
The ESG distribution profiles between Developed and Emerging Markets are close to being mirror opposites; in the Developed region there is a higher number of stocks in the above average ESG category, whilst in Emerging Markets the biggest concentration is in the lower categories, the single B grade in particular.  Whilst there is a significant difference in the number of stocks between the Developed and Emerging index (1634 vs 1120 stocks) this is not enough to explain the striking gap in the AAA bucket between the two indexes (130 vs 7).  On the flip side there are only 40 CCC stocks in Developed Markets versus 133 in the Emerging Markets.* This disparity does not surprise KBIGI as responsible business practices are more evident in the Developed world and less so in the Emerging world.
The firm also identified significant differences at a regional level.  Of the Developed Markets, Europe has a higher concentration of stocks with a high ESG score than North America, where the distribution is more skewed to the lower ratings.  In Europe 71.4 % of companies achieved above average ESG scores (AAA, AA, or A), the corresponding figure for North America at just 35%.*  Within the Emerging Markets, in Asia the poorer the rating the higher the number of stocks (the only exception being the CCC bucket), whilst in Latin America the opposite holds true.
Changes identified in index breakdown by ESG rating over the last five years
As part of their endeavours to analyse the evolution of the ESG buckets KBIGI compared the change in the number of stocks in each bucket between 31st January  2014  and 31st December  2018.  KBIGI find that this movement of companies, and how they are rated from an ESG perspective, is often misunderstood by clients; ratings are not static and can change over time in tandem with a company's ESG practices. The evolution of stocks from bucket to bucket can be the result of:
the movement of a company from one bucket to another (ESG migration);
corporate actions (e.g. M&A);
new companies joining or leaving the index.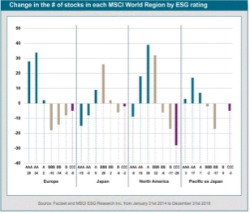 Over the period analysed KBIGI observe a downward trend in the number of companies with a CCC rating and this is consistent both at a regional level for the Developed Markets (Europe -5, Japan -2, North America -28 and Pacific ex Japan -3) and the Emerging Markets (Asia² 0, EMEA -14, LatAm -4).
*Source: Factset and MSCI ESG Research Inc. December 31st 2018
In Developed Markets we have seen a general improvement in ESG ratings, with more companies joining the upper end of the grading system. This is particularly true for Europe with the AAA, AA and A buckets reporting an increase in head count, in contrast to a decrease in other buckets.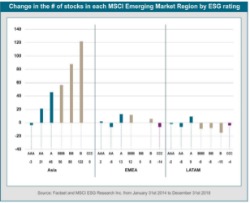 In Emerging Markets the Asia region saw an increase in the overall number of stocks as a result of the inclusion of Chinese A shares ; this had a significant impact on rating distributions, in particular in the two lowest ratings buckets.On 29th December 2017 there were 51 stocks in those two categories versus 120 at the end of 31st December 2018.
World Index performance by ESG evolution over the last five years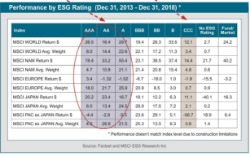 The US Dollar performance of each (weighted) ESG bucket in the Developed Markets over the five-year period to end of 2018 is shown in the table below along with the size of each bucket.  What we can see quite clearly is that, in almost all cases, the above average ESG categories outperform, while the lowest bucket (CCC) is the worst performer.
Drawing some conclusions from its analysis, James Collery, Senior Portfolio Manager, Global Equities Strategies at KBI Global Investors said, "Our research measures the way in which ESG impacts the performance of stocks in different regions around world.We are not aware of any other firm doing this.What we are trying to do is to put hard numbers on everything we do when it comes to ESG, to be specific, to make it tangible and to be transparent.This is in stark contrast to the industry at large.It makes a lot of noise about ESG but offers nothing meaningful as to how it effects what they do or how their investments behave.
It is of course important to take a real world view on these results.Firstly, allocating stocks into categories on the basis of just one of the metrics it displays, whatever that metric may be, has its limitations. For this reason, the size of each bucket is important – not only because it shows us where the majority of stocks with above or below average ESG scores lie, but because the weighted average results are more meaningful for the larger segments. It should be understood that buckets that are very small (below say 1.5-2%) are largely meaningless as the number of stocks in those segments is too small. This means that performance is more likely to be driven by stock specific drivers (idiosyncratic risk) rather than the ESG characteristics on display.
Long-term commitment to Responsible Investing
KBIGI has always had a strong focus on ESG and Responsible Investing.  A member of or signatory to the Carbon Disclosure Project, Institutional Investors Group on Climate Change and the UK Stewardship Code (with Tier 1 status), the firm is part of a network of investors which support and promote the long-term benefits of sustainable investment within the context of their individual investment processes and fiduciaries duties.
More information on KBIGI's work in this field available at https://issuu.com/kbigi/docs/kgbi-corporate_brochure_digital_sin?e=33724851/62600686 and in this short video https://vimeo.com/261110766.
– ENDS –
¹ MSCI Research rates companies on an AAA to CCC scale (good to bad) on an industry by industry basis and according to the rated company's exposure to ESG risks and the ability of each company to manage those risks relative to their peers
² Before the inclusion of the Chinese A share in the index there was a reduction of CCC companies.  After the index reshuffle the number of CCC companies returned to the same level as it was in January 2014.
NB: All data used in the KBIGI analysis at 31 December 2018.
Journalists seeking further information or who wish to speak with KBI Global Investors should contact:
Gordon Puckey
Managing Director
Phoenix Financial PR
07799 767 468
NOTES TO EDITORS
About MSCI ESG Research Products and Services
MSCI ESG Research products and services are provided by MSCI ESG Research LLC, and are designed to provide in-depth research, ratings and analysis of environmental, social and governance-related business practices to companies worldwide.  ESG ratings, data and analysis from MSCI ESG Research LLC. are also used in the construction of the MSCI ESG Indexes.  MSCI ESG Research LLC is a Registered Investment Adviser under the Investment Advisers Act of 1940 and a subsidiary of MSCI Inc.
About KBI Global Investors ('KBIGI')
Established in 1980, KBI Global Investors ('KBIGI') is a specialist institutional asset management boutique, offering a range of Global Equities and Natural Resources strategies.  The firm manages assets for a broad range of clients – public and corporate pension schemes, sub-advisory investors, foundations and endowments, wealth managers, private banks and investment intermediaries included.  KBIGI enjoys an increasingly global client base and today holds mandates in the UK, Europe, North America and Asia.  Part of the Amundi Group, the firm is headquartered in Dublin, with additional offices in Boston, Massachusetts.
Originally focused exclusively on the Irish market, managing predominantly domestic balanced mandates, KBIGI continues to manage pension fund assets for some of Ireland's largest and best-known corporations; today the firm enjoys significant coverage across the global institutional consultant community, offering investment services on both a segregated and unitised basis.
KBIGI boasts a track record of delivering consistent and outstanding risk-adjusted investment performance over the longer term, its highly experienced investment team today managing over €10.9bn.  (This is the combined AuM of KBI Global Investors Ltd and KBI Global Investors (North America) Ltd as at 31st March 2019).
The firm is headed by CEO Sean Hawkshaw, with members of the KBIGI team holding 12.5% of the equity in the firm.
www.kbiglobalinvestors.com
Disclaimers
KBI Global Investors Ltd is regulated by the Central Bank of Ireland and subject to limited regulation by the Financial Conduct Authority in the UK.  Details about the extent of our regulation by the FCA are available from us on request.  KBI Global Investors (North America) Ltd is a registered investment adviser with the SEC and regulated by the Central Bank of Ireland.  KBI Global Investors (North America) Ltd is a wholly owned subsidiary of KBI Global Investors Ltd.  'KBI Global Investors' or 'KBIGI' refer to KBI Global Investors Ltd and KBI Global Investors (North America) Ltd.
Under MiFID II this is deemed marketing material and should not be regarded as investment research. This material is provided for informational purposes only and does not constitute an offer to sell or the solicitation of an offer to purchase any security, product or service including any group trust or fund managed by KBI Global Investors.  The information contained herein does not set forth all the risks associated with this strategy, and is qualified in its entirety by, and subject to, the information contained in other applicable disclosure documents relating to such a strategy.  KBI Global Investors' investment products, like all investments, involve the risk of loss and may not be suitable for all investors, especially those who are unable to sustain a loss of their investment.
PAST PERFORMANCE IS NOT NECESSARILY INDICATIVE OF FUTURE RESULTS
This introductory material may not be reproduced or distributed, in whole or in part, without the express prior written consent of KBI Global Investors.  The information contained in this introductory material has not been filed with, reviewed by or approved by any regulatory authority or self-regulatory authority and recipients are advised to consult with their own independent advisors, including tax advisors, regarding the products and services described therein.  The views expressed are those of KBI Global Investors and should not be construed as investment advice.  We do not represent that this information is accurate or complete and it should not be relied upon as such.  Opinions expressed herein are subject to change without notice.  In some tables and charts, due to rounding, the sum of the individual components may not appear to be equal to the stated total(s).  Additional information will be provided upon request.
All MSCI data is provided "as is". In no event shall MSCI, its affiliates, or any MSCI data provider have any liability of any kind in connection with the MSCI data.
No further distribution or dissemination of the MSCI data is permitted without MSCI's prior express written consent."